Spooktacular Safety: Halloween Safety Tips for Homeowners
Posted by DW & ASSOCIATES on Monday, October 30, 2023 at 10:45 AM
By DW & ASSOCIATES / October 30, 2023
Comment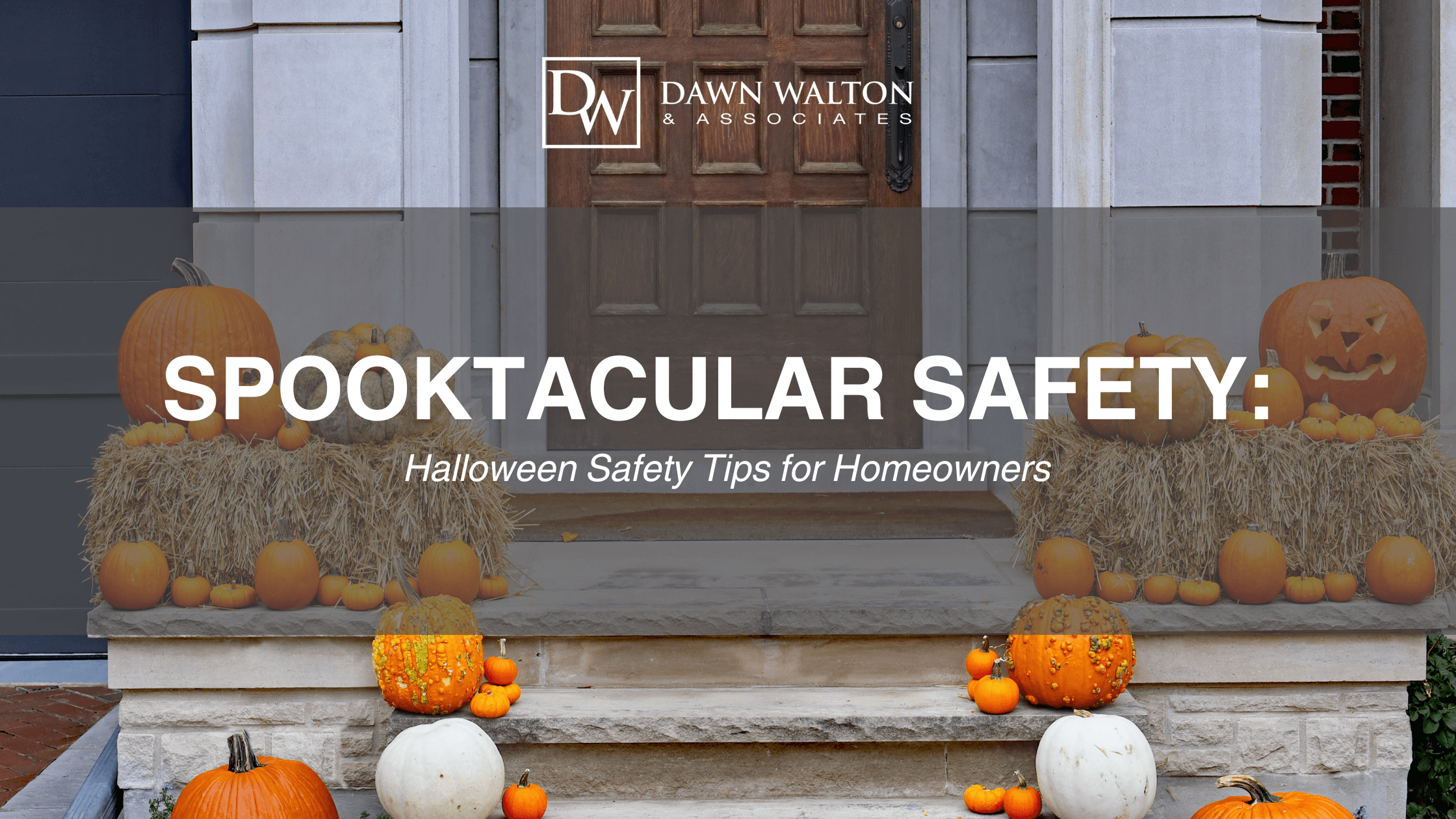 Halloween, the spookiest night of the year, is just around the corner. It's a time for ghouls, goblins, and things that go bump in the night. But, as homeowners, it's also a time to think about the safety of the little monsters and princesses who will be traipsing through your neighbourhood in search of candy. After all, you don't want your home to be remembered for all the wrong reasons.
In this spooky but entirely practical guide, we'll explore Halloween safety tips for homeowners. You'll discover how to transform your property into a safe and welcoming haven for trick-or-treaters while keeping that eerie spirit alive. So, grab your broomstick (or rake) and dive into some tips and tricks to make this Halloween a howling success!
1. Light the Way
Trick-or-treaters need to see where they're going, and so do you. To avoid accidents and ensure a safe pathway for your visitors, consider these lighting tricks:
Pathway Lighting: Install solar-powered or LED pathway lights along your walkway, driveway, and front steps. These not only guide young and old witches and warlocks but also add a magical ambiance to your property.
Pumpkin Lanterns: Carve a few friendly pumpkins to serve as jack-o'-lanterns. Place them strategically along your front walkway to provide a warm, inviting glow. Be sure to use battery-operated candles to prevent fire hazards.
Fairy Lights: String orange or purple fairy lights around your front porch or garden. They add a touch of enchantment and help create a well-lit environment. Make sure the wiring is secured and not a tripping hazard.
2. Clear the Cobwebs
No, we don't mean the spooky decorations. We're talking about making sure your pathways are free of obstacles. An obstacle-free path is essential for both the safety of your visitors and the aesthetics of your haunted house. Here's how:
Rake the Leaves: Fallen leaves can create slippery conditions, especially if they're wet. Rake your yard and paths before the big night. You can even incorporate them into your Halloween decor by creating leafy piles for that eerie, autumnal feel.
Remove Trip Hazards: Check for uneven walkway stones, roots or any other potential tripping hazards. Fix or mark them to ensure everyone's safe passage.
Secure Decorations: If you have spooky decorations in your yard, make sure they're well-anchored and won't fall on visitors. A falling ghost or ghoul can be scarier than intended!
3. Spooktacular Security
Halloween safety isn't just about preventing trips and falls; it's also about keeping your home secure. Here are some security measures to consider:
Lock It Up: Ensure all doors and windows are securely locked. With so many people coming and going, it's important to prevent any unwanted surprises.
Smart Lighting: Invest in smart lighting that you can control remotely. It allows you to turn on or off lights inside and outside your home as needed, even when you're not there. A well-lit home can deter mischief.
Security Cameras: If you have security cameras, double check them to ensure they are operational and well-placed to capture any suspicious activity. Review the footage if needed to ensure everyone's safety.
4. Candy Stations
If you want to minimize the foot traffic inside your home, set up a candy station outside. This can be a fun and safe way to distribute treats without inviting trick-or-treaters into your personal space. Here's how to do it:
Table or Stand: Set up a table or stand on your porch or driveway where you can place a variety of candies for kids to choose from.
Self-Serve: Provide small bags or containers so kids can help themselves while you keep a watchful eye from a safe distance.
Hand Sanitizer: Have hand sanitizer available for little hands before they dig into the candy. Safety first, even when it comes to treats!
5. Pet Precautions
If you have pets, don't forget about their safety and the safety of trick-or-treaters. Here are some pet-friendly Halloween tips:
Secure Your Pets: Keep your pets in a separate room or area away from the front door. Some pets can get anxious or protective when they see strangers in costumes.
ID Tags and Microchips: Ensure your pets have proper identification, such as ID tags and microchips, in case they accidentally escape during the festivities.
Pet-Friendly Costumes: If you like to dress up your furry friends, make sure their costumes are safe and comfortable. Avoid anything that restricts their movement or vision.
6. Emergency Preparedness
Sometimes, no matter how well you plan, accidents can still happen. Be prepared by having an emergency kit on hand. Your kit should include:
First Aid Supplies: Bandages, antiseptic wipes, and basic first-aid supplies for minor injuries.
Flashlights: In case of a power outage, a flashlight with extra batteries can help guide trick-or-treaters safely.
Contact Information: Have a list of important contacts, including neighbors, local hospitals, and emergency services, readily available.
7. Neighbourhood Watch
Team up with your neighbours for a spooktacular neighbourhood watch. Here's how to get your community involved:
Communicate: Share safety tips with your neighbours and encourage them to participate in creating a safe Halloween environment.
Well-Lit Streets: Encourage everyone to keep their outdoor lights on to create a well-lit neighborhood. A brightly lit street is a safer street.
Look Out for Each Other: Be vigilant. If you see anything suspicious or encounter any issues, communicate with your neighbours and, if necessary, local law enforcement.
8. Respect Your Guests
Lastly, remember that Halloween is all about fun and spooky surprises. Be respectful and welcoming to your guests, whether they're dressed as superheroes, ghosts or monsters. It's all part of the Halloween magic.
Compliment Costumes: Make kids feel special by complimenting their costumes. It'll put a smile on their faces and make their night.
Smile and Greet: Greet trick-or-treaters with a friendly smile and a "Happy Halloween!" A warm welcome can make their night memorable.
Follow-Up Safety: If you notice children not following safety rules, kindly remind them. Halloween is a night for fun, but it's essential to keep everyone safe.
This Halloween, don't let safety take a backseat to spookiness. With these practical tips, you can create a fun and safe environment for trick-or-treaters while maintaining the spirit of the holiday. So, light up those pumpkins, clear the cobwebs, and get ready to welcome the next generation of goblins and ghouls to your doorstep. With your precautions in place, you can ensure a Halloween night filled with treats, not tricks.
Remember, it's not just about the candy; it's about the memories you'll create and the safe and enjoyable experience you'll provide for the little ones who visit your home.
May your night be full of frights and delights, Happy Halloween!