Preparing For A Thanksgiving The Whole Family Will Remember
Posted by DW & ASSOCIATES on Wednesday, October 4, 2023 at 11:00 AM
By DW & ASSOCIATES / October 4, 2023
Comment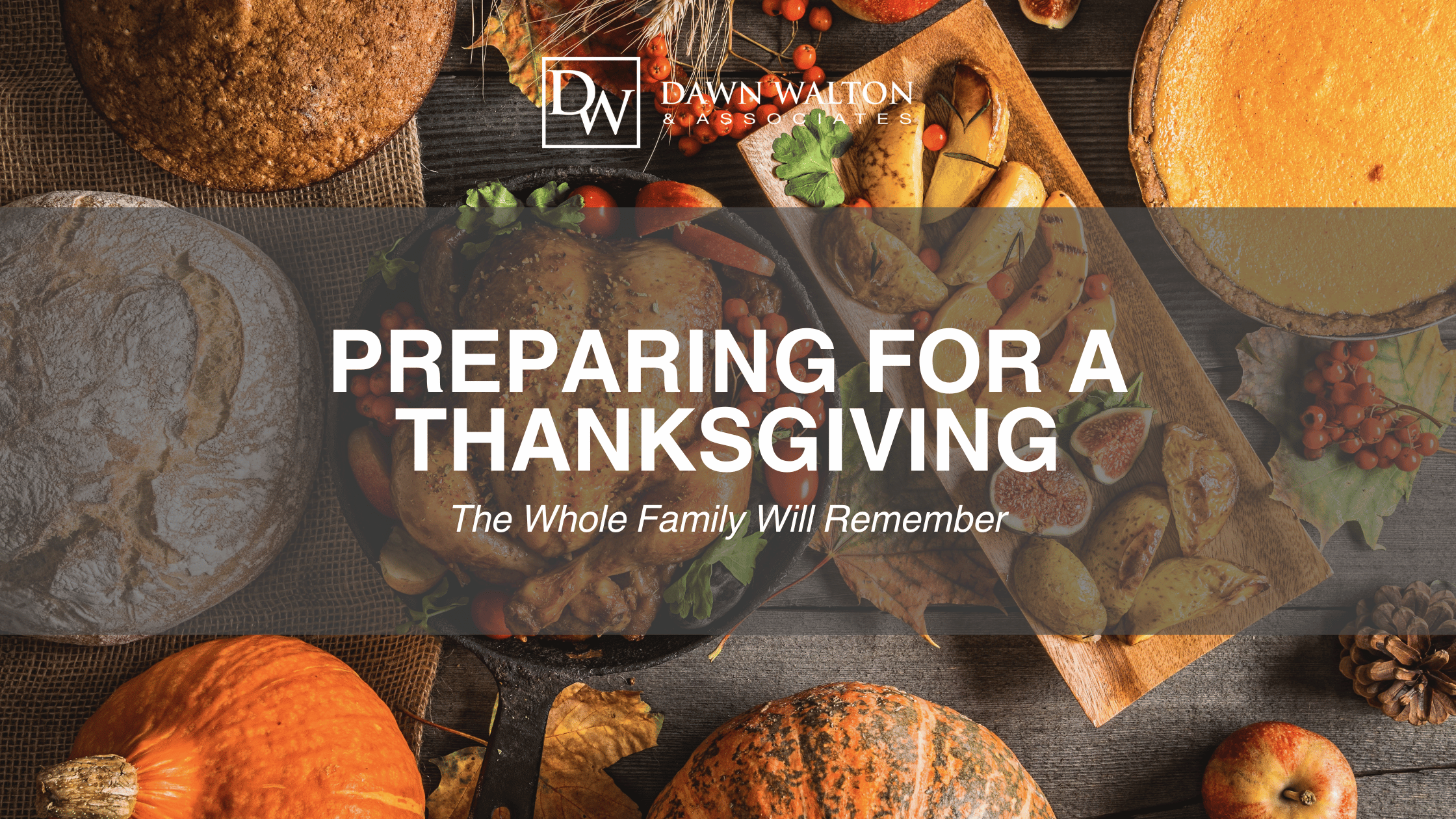 Can you believe it's Thanksgiving already!? It's one of our favourite times of the year; the air gets a little crisper, the leaves put on their gorgeous autumn display and Canadians from coast to coast gather around the table to give thanks for the bountiful harvest and spend quality time with family and friends. It's a time-honoured tradition that warms the heart and fills the belly and with a little preparation, it can be an unforgettable experience for everyone involved.
In today's post, we'll take you on a journey through the art of preparing for Thanksgiving. Whether you're a seasoned Thanksgiving pro or a rookie ready to take on the turkey, we've got you covered with tips, tricks and a dash of creativity that will make this year's celebration one the whole family will remember.
1. Plan Ahead
They say that failing to plan is planning to fail and this holds especially true for Thanksgiving. Start your preparations well in advance to ensure a smooth and enjoyable celebration. Create a to-do list, a shopping list and a timeline for cleaning, decorating, and cooking tasks. Don't forget to consider the dietary restrictions or preferences of your guests and plan your menu accordingly!
2. Mix Tradition With Innovation
While Thanksgiving is steeped in tradition, there's always room for a little innovation. Consider putting a twist on classic dishes by incorporating locally sourced ingredients. How about serving up some maple-glazed sweet potatoes or cranberry sauce made from fresh berries? Mixing traditional elements with regional flair can create a memorable and unique feast.
3. Get Creative With Decor
Set the mood by getting creative with your Thanksgiving décor. Use colourful autumn leaves, gourds, and pumpkins to add a festive touch to your table. Crafty DIY centrepieces, like a mason jar filled with dried flowers and wheat, can make for charming and affordable decorations. And don't forget the classic turkey-themed tableware – it's a must!
4. Delegate And Share The Load
Thanksgiving is a time to come together, so why not share the responsibilities? Delegate tasks like setting the table, making side dishes, and mixing cocktails to family members or friends. It not only lightens your load but also creates a sense of togetherness and shared accomplishment.
5. Plan Entertainment For All Ages
After the feast, it's essential to have some entertainment options ready, especially if your guests include a wide age range. Board games, a friendly football match, snuggle up for a holiday-themed movie or even a Thanksgiving-themed scavenger hunt can keep everyone engaged and having a blast.
6. Don't Skimp On Dessert
Thanksgiving dinner wouldn't be complete without a scrumptious dessert spread. Bake up a storm (or order from your local bakery) with classics like pumpkin pie, apple crisp and butter tarts. To make it more interactive, consider setting up a dessert station where guests can customize their sweet treats with various toppings and sauces.
7. Capture the Memories
Preserve the memories of your special Thanksgiving with photos and videos. Encourage everyone to share what they're thankful for and document these heartfelt moments. These snapshots of gratitude will warm your hearts for years to come.
8. Remember to Give Thanks
Amidst all the hustle and bustle, it's easy to forget the true spirit of Thanksgiving. Take a moment to reflect on the things you're thankful for and encourage your guests to do the same. It's a beautiful way to connect on a deeper level and create lasting memories.
As you embark on your Thanksgiving preparations, remember that it's not just about the perfect turkey or flawless table setting. It's about coming together with loved ones, expressing gratitude and creating cherished memories. So, plan ahead, mix tradition with innovation and don't forget to capture the moments that make this Thanksgiving one the whole family will remember. With a little creativity, a dash of wit and a lot of love, you'll host a celebration that embodies the true spirit of this wonderful holiday. Happy Thanksgiving!