Moving Tips That Will Save You Time And Money!
Posted by Stasia Johnson on Wednesday, January 31, 2018 at 12:05 PM
By Stasia Johnson / January 31, 2018
Comment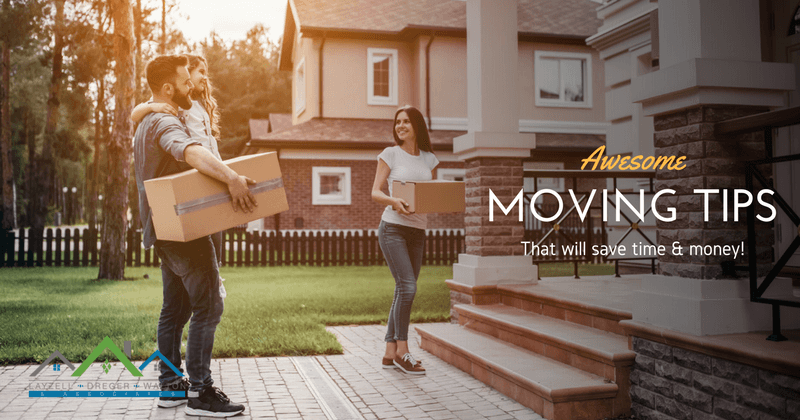 How many times do you swear up and down that you will be very organized for your next move? Compared to the last time you moved when you quickly shoved everything into boxes scrambling to your new digs. Well, this time, things will be different. We have put together a few suggestions for you think about before and after your move. Some very simple tips will go a long way to improving the entire stressful process!
1. Pack a bag containing all the essentials for a weekend away
This may sound a bit strange at first, but if you have enough to keep you going for a few days, likely you could go longer if something happens during the move. If you were heading out for the weekend you would pack a couple pairs of shoes, under garments, t-shirts, pants, toiletries, wallet, keys, and maybe a few other essentials. The point being, that many people forget to keep back essentials when they move and then they have to unpack everything to find the basics, or worst case scenario the truck is halfway down the street and you remember you have no other clothing for a few days!
2. Anything breakable could be wrapped in clothing to save on supplies
Before heading out and buying all the blankets and various types of wrapping materials, see if you have enough clothes to wrap your valuables. You may be very surprised to realize that you don't need to spend a dime on wrapping materials. Most of us have enough clothing, old towels, and blankets to cover all of our possessions.
3. Plates are less likely to break if you stack them vertically
Many people grab plates and wrap them one on top of the other. This may work with enough packing and careful moving, but the reality is that boxes may get dropped or thrown along the way. If you pack plates vertically and line them up like records, then they have a much better chance of surviving the move.
4. Correct labeling is key
What's in your boxes? What room will they be going into? Do you have a colour-coding system? These are the top three questions you should be asking yourself when you are creating a packing system. Organize the boxes by room first, then take the time to plan out what you are going to put into each box. Once you have them all packed in each room, pick a colour! Put pieces of large coloured tape over the boxes so it is easier for movers to identify. Then you can label rooms in the new house with colours instead of the more vague system of bedroom 1, 2, 3, and 4.
5. Wrap drawers in plastic wrap
One moving tip that saves time and money is wrapping drawers in plastic wrap. This not only keeps the contents neatly intact and protects against the elements, it also saves you valuable packing and unpacking time. These drawers can be easily removed, colour-coded, and added to the pile of boxes to be moved.
6. Sandwich bags are the best for holding small things you take apart
Think of all the furniture you will be taking apart and all the screws and bolts that could potentially go missing. Stock up on sandwich bags as they are the perfect way to house all those items. They can be sealed and labeled easily. However, create a system to keep track of all these bags! Keep a box aside that you label and store all of these bags in one place.
7. Take a picture of the back of your electronics
This is such a simple thing to do, as many of us have cell phones with cameras. How many times have you moved and unplugged everything, only to arrive and have no idea how it all fits together. A few simple snapshots will cure this issue. The less you have to remember before you move and while you are moving in the better.
8. Grocery shop two weeks prior to moving
The idea behind grocery shopping two weeks prior to moving is that you will use everything up and move less. Many people try to save that head of lettuce or half eaten jar of pickles. If you make yourself eat everything up in the fridge, then you will basically only be moving condiments come moving day.
As a general rule to all of these suggestions, planning ahead will save you anguish and stress in the long-run. Organizing each room before packing up will keep you on top of this daunting process. The more work you can do upfront, the less money you will have to pay come moving day. Your movers will be in and out in no time flat!