Homeowner's Checklist: Fall Maintenance Edition
Posted by DW & ASSOCIATES on Monday, September 25, 2023 at 11:00 AM
By DW & ASSOCIATES / September 25, 2023
Comment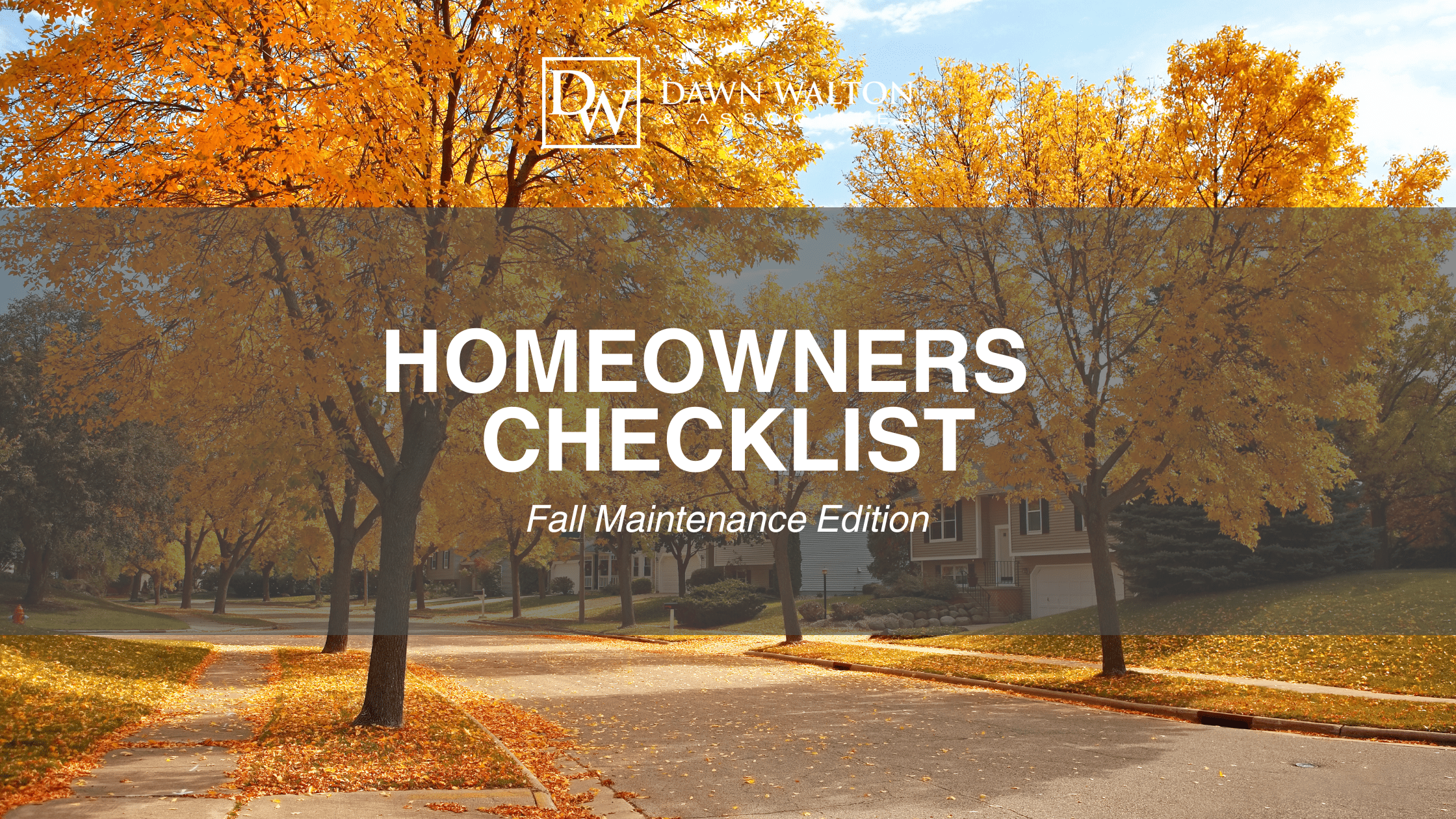 Hey there, homeowners! As the vibrant foliage starts to paint our landscapes with rich, autumnal hues, it's a sure sign that it's time to tackle some essential fall maintenance tasks around your home. After all, a little prep work now can save you from bigger headaches down the road. So, grab your pumpkin spice latte and let's dive right into your newest DWA Homeowner's Checklist: Fall Maintenance Edition.
1. HVAC Maintenance: Keep Cozy All Season Long
The first item on our list is ensuring your HVAC (Heating, Ventilation and Air Conditioning) system is ready to keep you warm when the chill sets in. Here's what you need to do:
Change Filters: Replace or clean your HVAC filters to ensure optimal air quality and energy efficiency.
Schedule a Tune-Up: Consider a professional HVAC inspection to make sure everything is running smoothly. It'll save you from unexpected winter breakdowns.
Don't Forget Your Home Heating Oil Tank: If you have oil heating in your home, schedule a scan to make sure everything is clean and healthy before you fill up for the cooler months.
Check out our trusted Plumbing & Heating partners and our trusted Oil Tank Scanning partners.
2. Chimney and Fireplace Inspection: Stay Toasty, Stay Safe
If you have a fireplace or wood-burning stove, make sure they're ready for action:
Chimney Sweep: Hire a chimney sweep to remove creosote buildup which will reduce the risk of chimney fires.
Check Damper and Flue: Ensure the damper opens and closes properly and that the flue is clear of debris.
Check out our trusted WETT Certified partners.
3. Insulation and Ventilation: A Well-Insulated Home is a Happy Home
Proper insulation and ventilation are vital for energy efficiency and a cozy indoor environment:
Inspect Attic Insulation: Check for any signs of wear or damage and add insulation if needed.
Seal Gaps: Seal any gaps or cracks in your home's exterior to prevent drafts.
4. Clean and Store Summer Furniture: Farewell, Patio Season
Give your outdoor furniture some TLC before stowing it away for the season:
Clean and Dry: Wipe down and clean your outdoor furniture. Make sure it's completely dry before storing it in a shed or garage to prevent any mold damage for next year.
5. Deck and Patio Upkeep: Preserve Your Outdoor Oasis
Protect your outdoor spaces from the elements:
Clean and Seal: Sweep, clean and seal your deck or patio to prevent damage from seasonal wind, rain and hail.
6. Lawn and Garden Care: Prep for a Lush Spring
A little effort now will pay off when spring rolls around:
Rake Leaves: Clear leaves and debris from your lawn to prevent mold and damage.
Fertilize: Apply a fall fertilizer to keep your lawn healthy.
Trim Trees and Shrubs: Prune dead or overgrown branches.
7. Clean Gutters: Prevent Water Damage
Don't neglect this important task:
Remove Debris: Clean out your gutters to prevent clogs and water damage.
There you have it, a comprehensive fall maintenance checklist tailored to our beautiful British Columbia homes. Remember, a little effort now can make your fall a whole lot cozier. So, grab your rake, put on your cozy sweater and let's get started on these fall maintenance tasks. Your home will thank you and you'll have more time to enjoy those crisp autumn days.
Happy fall, homeowners! 🍂🏡