Ask Us Anything: Real Estate Frequently Asked Questions Part 1
Posted by DW & ASSOCIATES on Monday, November 6, 2023 at 11:00 AM
By DW & ASSOCIATES / November 6, 2023
Comment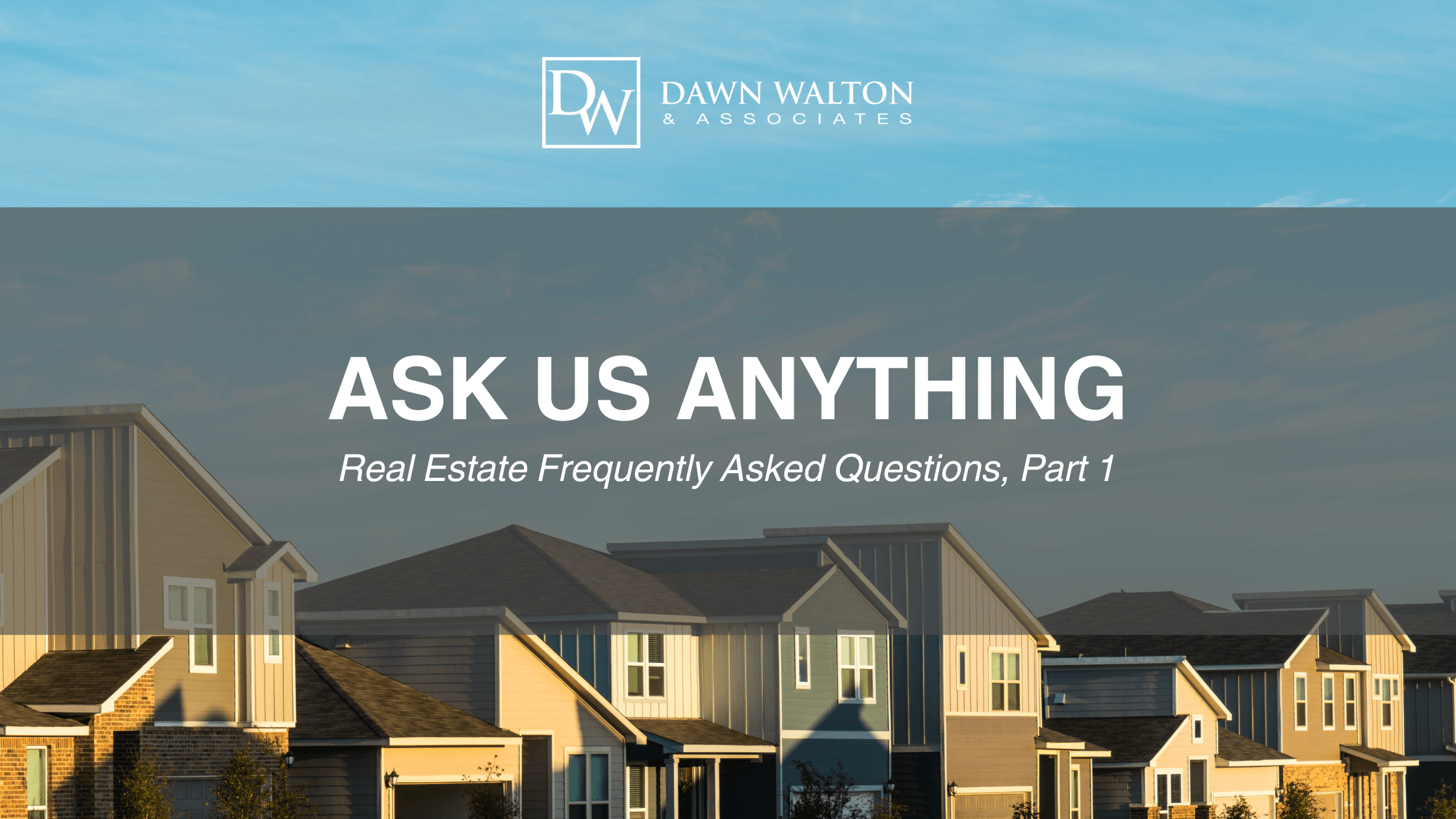 Are you ready to demystify the world of real estate? We certainly are! As a team of seasoned real estate agents, we often find ourselves at the crossroads of dreams and reality, where home buyers and sellers come to us with their burning questions. You've got queries, and we've got answers. So, whether you're looking to buy, sell, or just curious about the wild ride that is the real estate market, fasten your seatbelts because we're about to speed into the frequently asked questions that keep home buyers and sellers up at night. Let's dive in!
I'm moving to Nanaimo and want to buy a home. How will your team help me find the right home and relocate to Vancouver Island?
Our team at Dawn Walton & Associates takes great pride in being a leader in market knowledge for Central Vancouver Island. We know that consistently staying on top of what's going on with the real estate in our area allows us to better help you find suitable properties based on your criteria.
We will work closely with you to build trust and will help to identify available homes that meet your needs and will schedule viewings accordingly. We can provide you with comparable property sales data to ensure you make an informed decision on pricing and negotiations. We will ensure you are safely guided through the offer, due diligence and closing processes and we also work closely with other local resources and services that can help you with all the practical aspects of moving to a new area as well.
What are the first steps to buying a home in Nanaimo?
The first steps to buying a home in Nanaimo, BC, typically involve:
1. Set a Budget: Know how much you can spend on a home by assessing your financial situation and getting pre-approved for a mortgage.
2. Identify Your Needs: Determine your list of "must-haves" vs "would be nice" and your list of "don't want" such as the number of bedrooms, location and other essential features.
3. Research the Market: Explore the real estate market in Nanaimo, including property prices, neighbourhoods and amenities.
4. Find a Realtor: Do your research to find a reputable real estate agent in Nanaimo who can guide you through the buying process and find the right home for you.
5. View Properties: Start visiting homes that meet your criteria to get a feel for the options available and determine what best suits you.
Remember, the home-buying process can vary depending on your specific circumstances and local regulations, so it's essential to work closely with your realtor and other professionals.
How do you stay current with the local real estate market trends and changing conditions on Vancouver Island?
Our team is dedicated to ensuring we know our market inside out, that we have constant access to in-depth reporting tools and statistics. Most importantly, we understand what those numbers mean, how to interpret them for you and what impact those current conditions may have on your short- or long-term plans. We also attend multiple industry conferences, network with other professionals, and stay active with online platforms, podcasts and social media dedicated to real estate updates and discussion. Our team has a culture of openly collaborating with our peers locally and nationally to incorporate what is working well for them and share where we are excelling.
Can you recommend reputable home inspectors, lenders and other professionals who can assist me throughout the buying process on Vancouver Island?
We certainly can! Through our experiences and most importantly our clients' feedback, we have cultivated an extensive network of reliable, trustworthy and reputable professionals to assist you throughout your home-buying journey to help you achieve your goal as seamlessly as possible. Many of these professionals have chosen to participate in our VIP Perks Program along with other stores, restaurants and service providers in our community.
Can you provide information on the local schools, amenities and recreational facilities available in the neighbourhoods I'm interested in?
We have access to various resources such as municipal databases, school district websites and community information groups to provide you with details of interest. Our team are also deeply ingrained and active members of these communities ourselves, with children of various ages and personal interests. We can leverage our networks and personal knowledge to offer additional insights to answer any specific questions you may have.
Ready to dive deeper into your home buying or selling journey? Connect with one of our agents today!