9 Things First-Time Home Buyers Should Know
Posted by DW & ASSOCIATES on Monday, October 16, 2023 at 11:00 AM
By DW & ASSOCIATES / October 16, 2023
Comment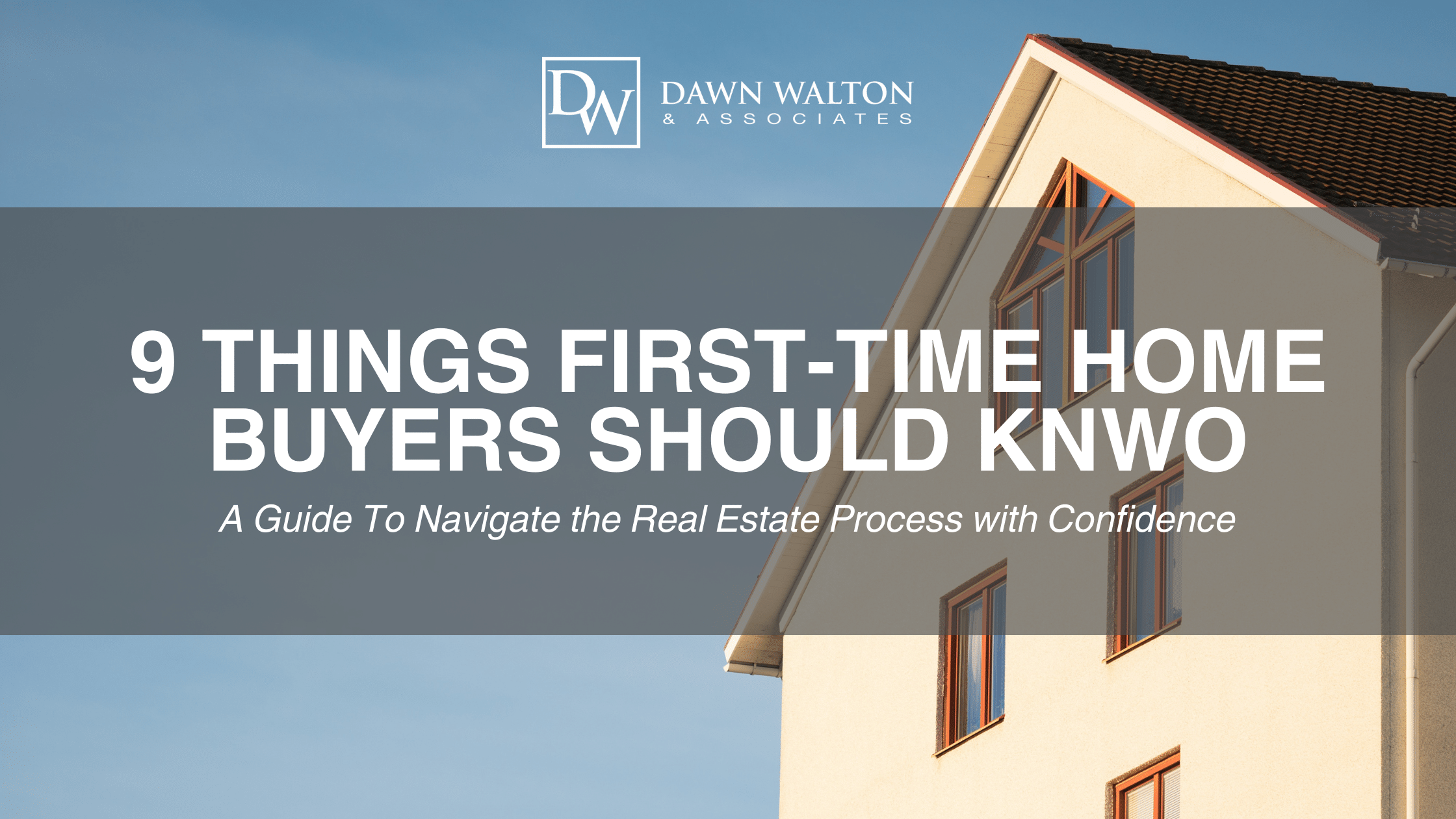 Are you a first-time homebuyer looking to buy in Central Vancouver Island? If so, congratulations are in order! You're about to embark on one of the most thrilling, albeit daunting, adventures of your life – buying your very first home. It's a journey filled with excitement and a touch of overwhelm, and you're not alone. Our team has spent over 15 years helping our clients buy and sell real estate in Nanaimo, Lantzville, Parksville, Qualicum, Ladysmith and the surrounding areas. At this point, it's safe to say we've seen it all and there is nothing we love more than to use our knowledge to help folks like you feel confident, comfortable and excited with the real estate process.
To make this expedition a bit smoother, we've compiled a list of nine essential things you wish you knew before diving into the Central Vancouver Island real estate market.
1. Set a Realistic Budget
Before you start shopping for your dream home, you need to determine how much you can afford. Your budget will be your guiding light in this process. Remember, there's a difference between what you can afford and what you're willing to spend. It's a crucial distinction and it sets the stage for the rest of your journey.
Pro Tip: Factor in all costs, not just the down payment. Think about property taxes, insurance, maintenance and any renovations you might want to do. Make sure your budget includes all these elements, so you're financially prepared.
Looking for a place to start? Check out our Martgage Calculator.
2. Get Pre-Approved
Here's a secret weapon for first-time buyers: mortgage pre-approval. It's like having a golden ticket when you enter the real estate world. It gives you an edge by showing sellers that you're a serious contender.
Pro Tip: Don't mistake pre-qualification for pre-approval. The latter is a more rigorous process and carries more weight in the eyes of sellers. Plus, it gives you a better understanding of how much you can actually borrow.
3. Pre-Check Neighbourhoods
Before you fall in love with a home, fall in love with the neighbourhood. Research the areas you're interested in. Check for amenities, schools, safety and the overall vibe of the community. You don't want to end up in a dream house in a not-so-dreamy location.
Pro Tip: Drive through your preferred neighbourhoods at different times of the day and week to get a feel for what it's like living there.
4. Must-Haves vs. Would-Like-to-Haves
The home of your dreams might include a library, a giant walk-in closet and an indoor pool, but the reality might look a bit different. First-time buyers often learn that some compromises are necessary. Prioritize your must-haves over your would-like-to-haves and you'll save yourself a lot of time, money and potentially any future regret.
Pro Tip: Make a checklist of your non-negotiables – the essentials you can't live without. It'll help narrow your search and avoid potential decision fatigue.
5. Find a Trustworthy Agent
A reliable real estate agent is your closest ally in the home-buying process. They're like the Sherpa guiding you through the real estate mountain. It's important to find someone who has a good reputation in the community and has a great working knowledge of what's going on in the industry and the local market. It's equally important to find someone you connect with and trust to ensure your journey is smooth.
Pro Tip: Interview multiple agents before making your choice. They should be experienced, communicative and knowledgeable about your preferred neighbourhoods.
Get to know the team at Dawn Walton & Associates.
6. Reputation Matters for Mortgage Lenders
Picking the right mortgage lender is critical. After all, you're entering a long-term financial partnership. Research different lenders, read reviews and ask for recommendations. A reputable lender can save you both time and money in the long run.
Pro Tip: Don't just go with the first lender you find. Shop around, compare interest rates and understand the terms and conditions of the mortgage offers.
Check out the list of are our Trusted Partners.
7. Understand the Closing Costs
Closing costs are like the not-so-hidden fees in the fine print. They can catch you off guard if you're not prepared. These expenses include legal fees, land transfer taxes and other miscellaneous costs. Understanding them can prevent any last-minute financial surprises.
Pro Tip: Work with your agent to ensure you have a clear picture of all closing costs involved. This way, you can budget accordingly and avoid any unexpected shocks.
8. Know the Home Buying Process
The home-buying process isn't a straightforward path. It's more like a winding trail with twists and turns. Knowing what to expect at each step will make the journey far less intimidating.
Pro Tip: Ask your agent to provide you with a detailed roadmap of the home-buying process. This way, you'll know what's coming and when; which can help manage your expectations.
9. Don't Be Shy, Ask Questions
Remember, there's no such thing as a stupid question when it comes to buying a home. Whether you're unsure about a clause in your contract or curious about the local market, ask the questions. Your agent, lender and real estate lawyer are there to help you so please lean on them.
Pro Tip: Keep a running list of questions as they pop up during your home-buying journey. It's easy to forget something in the whirlwind of the process and this ensures you get all the answers you need.
There's no doubt that buying your first home is an exhilarating adventure. By setting a realistic budget, getting pre-approved, understanding your priorities, finding trusted professionals, and being inquisitive, you can confidently navigate the real estate landscape in Nanaimo, Lantzville, Parksville, Qualicum, Ladysmith or the surrounding areas with the Dawn Walton & Associates. Embrace the excitement (and occasional overwhelm) and remember that you're on your way to becoming a proud homeowner. Happy house hunting!
Ready to get started? Get started on your search or chat with one of our agents!