6 Ways to Create Space for Holiday House Guests
Posted by Dawn Walton on Tuesday, October 23, 2018 at 11:50 AM
By Dawn Walton / October 23, 2018
Comment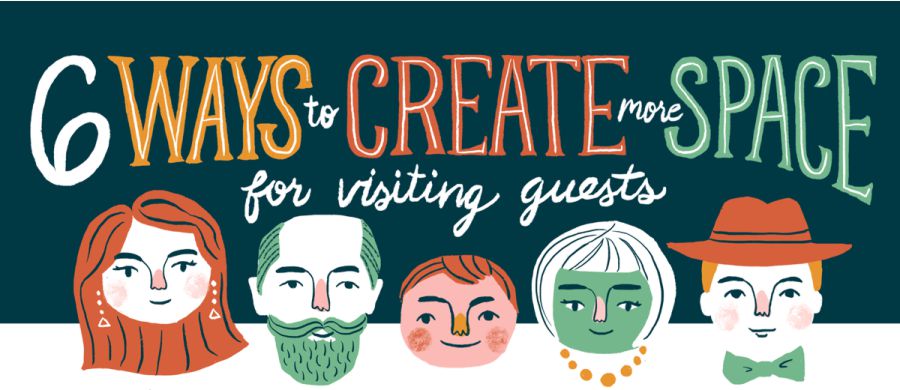 I hope you're having a wonderful fall. The holiday season is full of joys: surprise gifts, delicious meals, colorful lights, and nostalgic movies. But if you're in charge of hosting out-of-towners, it may not be quite as joyous.

Getting to spend more time with visiting family and friends is wonderful, but it can cramp your style — especially if your home isn't quite large enough to comfortably accommodate them. If you're hosting this holiday season, here are a few easy ways to create a little more space for them so you're both more comfortable.


This could be the excuse you need to donate or sell an old couch and replace it with a sleeper sofa. These look and function like couches but unfold to reveal a bed, saving you major space when guests arrive. In the mornings when they wake up, ask them to put the bed back up so the couch can remain functional for the household.

If your couch is staying put, consider instead buying a high-quality air mattress, which folds up and takes up very little space when not in use. Just make sure you have enough space for it; you may have to move some furniture around.

If your guests are staying in the living room on a couch or air mattress, it can help to get some form of a divider to give them a sense of privacy and to make you feel like your space isn't being completely overrun. A great way to do this is to purchase a folding screen, which is available online in all shapes and sizes.

If you have a yard and live somewhere with a moderate climate, why not pitch a tent and camp out back so someone else can have your room? You can inflate a comfy air mattress or curl up in sleeping bags. Or if you'd rather not give up your bed, you could see if your visitors would be willing to have a campout.

Before they arrive, pick up the house as much as you can, and try to make some space for their belongings. This could mean clearing a little room in the nearest closet or having a garment rack where they can store some of their belongings. You can also have a luggage rack or a chair handy that could serve as a luggage rack so their suitcase has a dedicated spot. This will keep your home from feeling as cluttered with their stuff.

If your living room doesn't have space for guests and camping isn't an option, consider having your family bunk up in order to free up a room. If you have kids, ask them to sleep in the same room for a couple nights, or with you, so your family members can have a bedroom to themselves. Just make sure you have the belongings out of there that you need, or that you have boundaries set up around when you can go in there to get your things.