Upcoming Community Events
2023 North Nanaimo Pumpkin Patch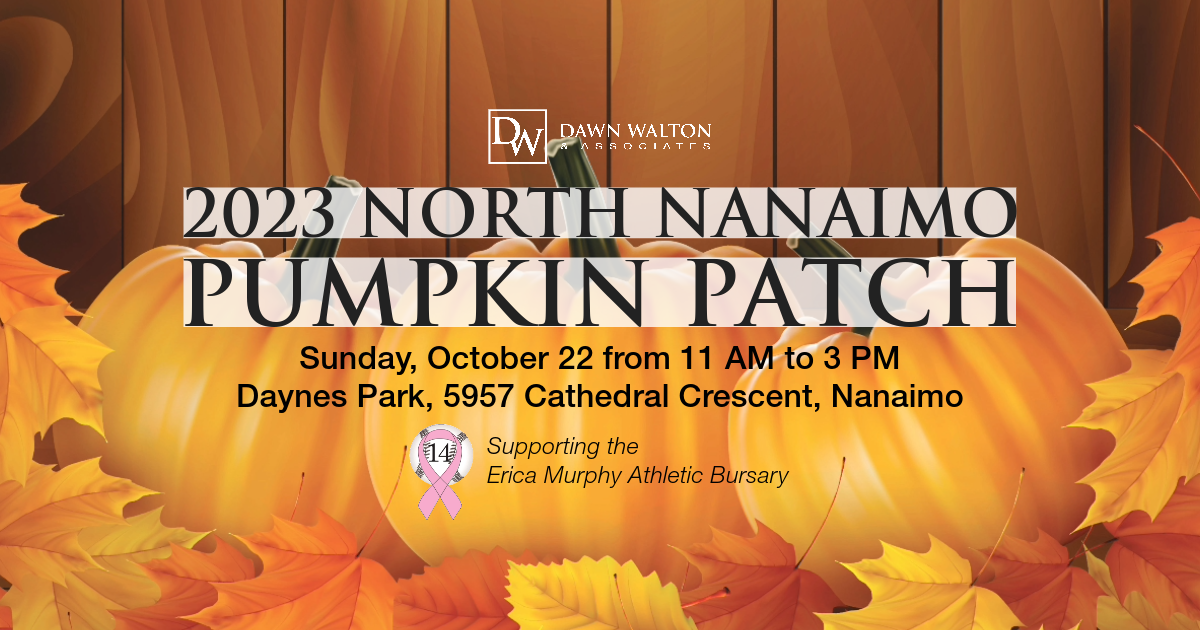 Every year we host the North Nanaimo Pumpkin Patch at Daynes Park in the North End of Nanaimo, as a fundraising event full of family fun for the whole community.
Date: Sunday, October 22, 2023
Time: 11:00 am - 3:00 pm
Location: Daynes Park 5957 Cathedral Crescent, Nanaimo, BC, V9T 6B1
Come on out to pick up your pumpking, enjoy a hot dog (or veggie dog), games, photos and good company!
The Erica Murphy Athletic Bursary at VIU is the reason this whole event began.
Our friend Erica was an incredible athlete and coach to many up and coming athletes. She helped facilitate the road to post secondary education and competitive sport for many future stars. In March of 2008, Erica lost her courageous and long fought battle with breast cancer. Today, we continue to keep her legacy alive through events like this one with support from former players, teammates and the community who knew & loved her!
Check out our video from last year's event:
---
Winter Warm Up Clothing Drive
To benefit the Nanaimo Unitarian Shelter and the Nanaimo Youth Services Association, we will be collecting new or gently used items such as winter coats, socks, hats, scarves, gloves and any winter clothing. Fleece items such as pajamas, sweat shirts and sweat pants are also greatly appreciated!
Date: Saturday, November 18, 2023
Time: 11:00 am - 3:00 pm
Location: Country Club Mall Parking Lot
We will also be accepting monetary donations for the Loaves and Fishes Community Food Bank.
---
Dawn Walton & Associates Friends & Family Skate
Every year we host a public invite to come enjoy a holiday skate. We love seeing all the happy faces on the ice with a special visit from Santa and some of our favourite elves!
With continued trust and support, we are able to be a part of helping these great organizations make a notable difference in the lives of others.
---
Dawn Walton & Associates in the Community
Throughout the year, Dawn Walton & Associates likes to give back to their community in different ways. Because of our valued clients, family, friends and other members of the community, our events continue to be a success.
Adopt-A-Park Program
The City of Nanaimo's Adopt-A-Park program gives businesses, groups and other passionate locals the opportunity to get involved in our community by keeping our beloved places clean, safe and fun for everyone. It's always been important to us to be active in the community by volunteering with organizations like Loaves & Fishes and the former 7-10 Club.
This year, we decided to do something a little different–that's when we learned about the City of Nanaimo's Adopt-A-Park Program. We are very excited and proud to announce that Dawn Walton & Associates has adopted Departure Bay Centennial Park, Kinsmen Park and the Departure Bay Beach Boardwalk!
Here are a few of the other organizations that we support through financial contributions, sponsorships, donations and through our volunteer time: